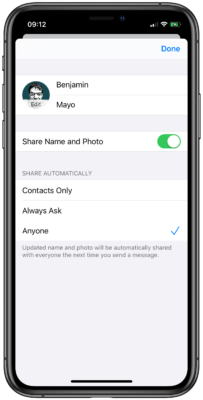 How to Share Your Contact Card in iOS 11
If you want to share information about your contacts with another person by using iPhone, you need to learn about the important steps. Especially, if you want to share your contact card on iOS. Make sure you don't have any private information about your contacts since it can cause some inconveniences.
The macOS has this option, where you are able to turn the "me" card private and share some fields. However, there is no such opportunity in iOS.
It should be mentioned that you do not need to change your default contact card to make the shareable one since iOS can make this function and get all details. To set it up go to Settings > Contacts > My info > and select the contact item you want to share.
How to share it:
Go to Contacts.
Select the contact.
Swipe down until you'll get to the option "Share Contact" and tap on it.
Select the sharing method.
If this sharing process is going to happen between you and another iPhone user, you can use "AirDrop". The new Control Center can be used to enable AirDrop and you can set it to the option "Everyone" to get a full list of nearby users.
There is also an option to send all contact information to anyone nearly via e-mail or simple text message. This is not hard since Apple is using the vCard format, which is supported on the major platforms.
SpeedMac.org team tries to keep its focus on everything related to IT and be worthy of calling ourselves professionals. No matter what issue you have about your Mac or iPhone, we are here to help you and provide with solid facts and helpful tips.