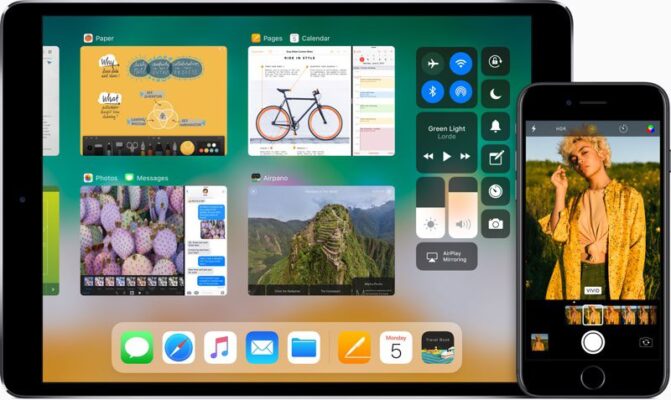 Description of the New iOS 11 Features
Get ready for other new peculiarities that you can observe in the updated iOS 11 version. They may seem not so important but all these tiny things are exactly what makes your phone better.
51. A Step Ahead in Virtual Reality: "Flyover" Cities
The features of Flyover (first introduced in iOS 6) and City Tours (in iOS 8) have been upgraded to the iOS 11. Both these awesome tools enable a deep immersion in virtual reality with the use of the ARKit framework, which is especially exciting with a VR handset.
52. Emergency SOS Is Available on Your iPhone
Finally, Emergency SOS is available on iOS 11 which is an important safety tool to contact emergency services in situations when you don't have another option. Pressing the sleep/wake button five times, the user starts a call to 911. And there is an option to establish emergency contacts for constant updates of the user's location.
53. A "Cop Button"
Another novelty of the same nature is a Cop Button. It helps in a situation when the user is afraid to use their fingerprint out of legal considerations (because a warrant can be brought to him or her for an unnecessary call). When Emergency SOS is initiated, intentionally or not, Touch ID disables automatically until the passcode is entered.
54. Another Security Upgrade
Another security measure has been introduced to protect the procedure of connecting iPhone to a new computer. Now, above the current requests, the iOS 11 has added another one that asks you to enter the passcode on your phone (even if the iPhone is unlocked).
55. A Different Passcode Screen
A small change in the Passcode Screen: the buttons stand out a little more than before.
56. The Calculator: A New Appearance
Another change in appearance. The Calculator now has a new home screen icon. And the app itself uses circular buttons instead of square-shaped.
57. New App Icons
Apart from the Calculator, some other Apple stock apps have changes in their interface. They include Apple Store, Contacts, Camera, Reminders, Notes, Maps, iCloud Drive (which is now called Files) and iTunes Store.
58. Multiple Items Can Be Moved Simultaneously
The upgraded iOS is a great help in organizing the home screen. Now in the edit mode, it is possible, while holding an app or a folder, to tap others to make a group. This group can be removed to a folder, another home screen or the dock. In the iPad Pro with the new grab and drop feature, it is possible to select multiple items for simultaneous "drag and drop" similar to the operation with icons on the home screen.
59. No Text in Dock Apps
No doubt that an icon itself should identify the app. Otherwise, the program design is not appropriate. And with folders, you can easily guess what they are by the apps they contain. Thus the text for apps and folders is unnecessary and its removal just cleaned the general look. No more text, just icons. Probably a similar change will happen soon widely.
60. Home Screen Is Gone in the App Switcher
In this new iOS 11 version, the page for the home screen in the App Switcher has been removed as it wasn't necessary anyway. To return to your home screen, you just need to press home button or tap on the background.
SpeedMac.org team tries to keep its focus on everything related to IT and be worthy of calling ourselves professionals. No matter what issue you have about your Mac or iPhone, we are here to help you and provide with solid facts and helpful tips.