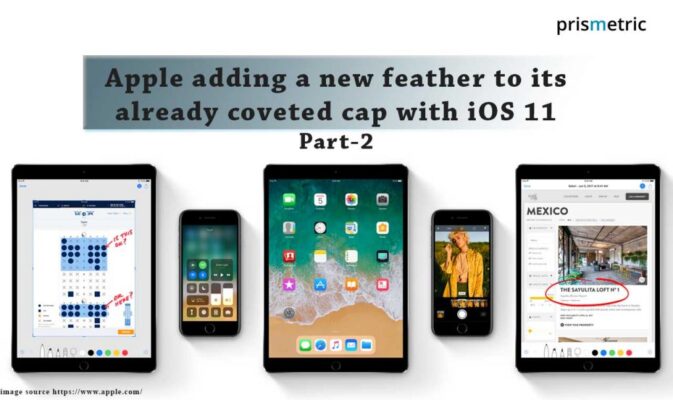 The New Features of iOS 11. Part 2
In the previous article, we've presented new 10 iOS 11 features. Curious about the rest? Here are another 10 important features that you didn't even know about. Enjoy your new updated iPhone with iOS 11.
11. 3D Touch No Longer Needed for Control Center Quick Actions
The quick actions feature, so handy and so much associated with 3D Touch, now is possible WITHOUT 3D Touch. In the iOS 11, you only need to long press on an icon in the Control Center (almost on any of them). And you can use it in the same way, for example, to adjust flashlight intensity or anything. True, in the older iPhone, the feature is available only in this menu. It's a pity for their owners…
12. One-Handed Keyboard
Recently, many iPhone users have shifted to the third-party keyboard. Probably, this has been a reason for Apple to release such a new improvement as a one-handed typing mode. The keyboard is squished over the left or right side, which makes the typing process much easier. The user no longer needs to perform an awkward motion of stretching his or her thumb out. But swipe typing is still missing. Hopefully, this another great typing feature will be added soon as well.
13. Sending/Receiving Apple Pay Cash (in iOS 11.2)
In the iOS 11.2, one can send money via debit or credit card (Apple cash Balance may be used as well). The new feature Apple Pay Cash works with the Messages app. On receiving the money, the transferee can either make Apple Pay purchases or put it in the bank. In Messages, people can even request money from their counterparts.
14. ARKit for Augmented Reality
There is a really smart new feature in iOS 11, which is sure to satisfy developers. The ARKit in the iPhone makes it possible to create augmented reality in applications and games. The framework allows motion tracking, surface detection, and more developed tools. Such advanced capabilities only require an A9 or higher processor on the iPhone. The most picturesque new games in all their beauty on your little iPhone!
15. The iMessage App Drawer: a Better Appearance
In the Messages app, the App Store for iMessage now looks much better. With iOS 11, it represents an accurate slim expandable row at the screen bottom. And the whole screen picture is now way more elegant.
16. Another iMessages Feature: New Screen Effects Introduced
Love Balloons and Confetti effect? Now it's time to enjoy new screen features. iOS 11 provides the existing Echo and Spotlight for your iMessages, making the Messages app a truly powerful effect producer.
17. The App Store: a Tremendous Update
The App Store new redesign has a "Today" view that offers various kind of app news, stories, and how-to guides. Games and applications now have their own tabs. Presentation of ratings and reviews has been changed as well. Now developers can answer the reviews, which certainly improves the feedback process.
18. The Feature to Store Messages in iCloud
In the past, it was often a nasty routine procedure to deal with messages on your iPhone. Now that users have obtained the possibility to store them in iCloud, the situation greatly improves. Since this is a privacy issue, it's an undoubtedly positive change. Unfortunately, it won't work until the release of macOS High Sierra Yep, because, in macOS Sierra, the option cannot be enabled.
19. Disabling In-App Prompts for Ratings & Reviews
In iOS 10.3, there was already a useful feature to toggle off in-app feedback requests, but unfortunately only in betas. Now, the new system-wide ratings and review system is for your service in iOS 11 (we hope this time it is there to stay).
20. Disabling Auto-Playing Videos in the App Store
You may dislike it when opening an App Store page, a trailer for an app or game automatically starts playing. For your convenience, now, you can either disable it or change it to "Wi-Fi Only"
SpeedMac.org team tries to keep its focus on everything related to IT and be worthy of calling ourselves professionals. No matter what issue you have about your Mac or iPhone, we are here to help you and provide with solid facts and helpful tips.