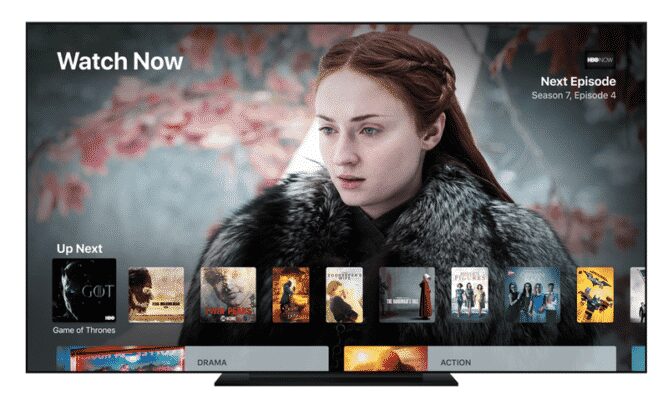 Apple took the stage at the worldwide developer's conference 2017 (WWDC) where they displayed some software and hardware updates such as 10.5in iPad, iOS11 plus tvOS11. Since September, tvOS 11 has been available for download on the fourth plus fifth generation Apple TV. There are few changes that came along with tvOS 11. Well, let's see some of the new things that have been featured in this new app.
Actually not much has changed, so don't expect to see a pack of updates. But, there are recent characteristics that enable the use of Apple TV more interesting.
Display switching
September 2016 was actually the first time when Apple began the introduction of dark mode with tvOS. This feature adjusts the background interface to enable easier light rays on the eyes at night, sort of creating a dim background for the home view. The idea is to make the user very comfortable while watching or viewing their screen at night. For people weary of being dazed by the white UI during night movie viewing.
However, there was one problem, it has to be activated manually either by asking Siri to switch it on and off or switching it on and off in the home screen settings menu. This is not the hardest job to do but with iOS and Mac having the ability to automatically turn on and off night shift mode then the question arose why Apple TV can't do the same.
Fortunately, this item was included in tvOS 11. This lets the Apple TV to take into account time difference between the daylight and night, thereby automatically adjusting its background to lower UI in such a way that it's comfortable to the eyes.
Home Screen Sync
This isn't going to create a load of excitement for Apple TV users but I bet it has made life much easier for those that have various Apple TVs and those seeking to upgrade to Apple TV 4k. tvOS 11 has a new feature that coexists your apps and home screen layout between any Apple TV running tvOS 11 that has been linked to your iCloud account. With this characteristic, it's very easy to set up a new Apple TV. All that is required to sign into your iCloud account and watch as your data is retrieved from iClouds. So, it definitely makes the management of Apple TV a lot simpler.
In addition to the adjustment to the user interface and home screen, there are also other new features. Users in the US should already be familiar with at least one.
AirPod support
With the evolution of wireless Apple earphones, Airpods, which can connect to any Apple device such as iPad, iPhone, and Mac as long as its connected to your Apple ID. The problem is that they don't connect to the Apple TV. Watching during the late night is much more interesting and comfortable as the audio output comes through the Airpods, preventing disturbance to anyone resting, therefore eliminating the nuisance caused to others also availing you the chance to view what you want.
You will agree it's a nice improvement to what used to be before when we have to manually attach our earphones to our devices. It does not just ease the stress of always having to be in close proximity to your device, it also makes a comfortable interrelation with our devices. Now you can be in one part of the room and your device in another and you still enjoy every service you need from your device.
TV app
So many people are actually waiting in anticipation for the promised TV app which happens to be a new addition to tvOS 11.Hopefully, before the end of 2017, this app will be out as promised by Apple for users in Canada, France, UK, Australia, Germany, Sweden and Norway after some weeks of uniqueness in the US.
This app is promising users the ability to browse contents from various platforms without having to change apps. Services like HBO, CBS and Hulu are included.
US users will also have access to live sports via the TV app.
Amazon Prime support
It's been a long time coming after a long wait and Apple TV is set to finally gain access to Amazon prime video after missing out to competitors for years. It is not available at launch but like the TV app will be available for downloads before the end of the year.
It's certainly good news for all Apple TV owners, most especially those who own the new Apple TV 4K as it will provide another source of 4K content beside the likes of iTunes and Netflix. As far as we know only Apple TV (4TH and 5TH generation) are presently compatible with tvOS 11.
In conclusion, we do feel that the tv0S 11 is left behind in the apple world. We feel that Apple has not paid enough attention to this app as it has done to the those of i0S 11 with enormous drop and drag features. While the tvOS 11 happens to be more of an update, nothing new was actually added, even with the TV app, which happens not to be new for US users who have been using this app for some time already. We do not want to sound negative, as we understand it will make life much easier for some Apple TV users but it has not brought anything extraordinary to the TV-watching experience. Well, I guess we have to make do with what we have.
SpeedMac.org team tries to keep its focus on everything related to IT and be worthy of calling ourselves professionals. No matter what issue you have about your Mac or iPhone, we are here to help you and provide with solid facts and helpful tips.