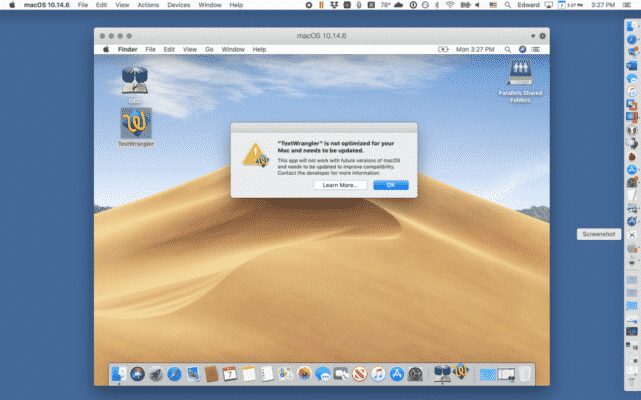 Find Another Way to Run Your 32-bit Apps on macOS
Some of the apps that you are running may not be optimized for your Mac because they are 32-bit apps. It means that they don`t have newer 64-bit versions. That`s why you can see a message that informs you about it. The news is that Apple is going to refuse from such kind of applications in the next version of macOS.
You may face some problems if you want to run old versions of the software. It may not just function on a future OS version. It is hoped that the producers of those apps will update them constantly. But it certainly could be worth a lot of money.
Virtual Machine and Its Benefits
Fortunately, we have come up with a perfect solution. Just use a virtual machine that will allow you to run one operating system emulated within another operating system. You will be able to run the latest macOS that will support your 32-bit apps fully. So, what are the main advantages of the virtual machines?
Convenient recovery, availability, application provisioning and easy maintenance
An instruction set architecture that differs from real computers
Multiple OS environments can exist simultaneously on the same machine
You are already convinced that virtualization will bring you a great number of advantages. There are several programs that will help you create a VM. It will be definitely more comfortable for you to keep Windows in a contained virtual environment.
Learn How to Set up a Virtual Machine
You can consider various Virtual Machine software solutions such as Parallels, QEMU, VMware or Virtualbox. We have decided to show you how to set up a virtual machine on the example of Parallels Lite and macOS High Sierra. With the use of Parallels, you will be able to run Windows, Linux and their apps on your Mac easily. The main thing is that you can forget about resetting between operating systems for good. You can easily download Parallels from the App Store for free. Moreover, the installation process will be quite easy for you.
1. Download Parallels Lite, download macOS High Sierra and start Terminal to create the install image.
2. Type line by line the following things in Terminal:
hdiutil create -o HighSierra.cdr -size 7316m -layout SPUD -fs HFS+J
hdiutil attach HighSierra.cdr.dmg -noverify -nobrowse -mountpoint /Volumes/install_build
asr restore -source /Applications/Install macOS High app/Contents/SharedSupport/BaseSystem.dmg-target /Volumes/install_build -noprompt -noverify –erase
hdiutil detach /Volumes/OS X Base System
hdiutil convert HighSierra.cdr.dmg -format UDTO -o HighSierra.iso
mv HighSierra.iso.cdr HighSierra.iso
3. Start Parallels Lite, choose Linux only and click Continue.
4. Select Install Windows or another OS from a DVD or image file and click Continue.
5. Choose Image File and click Select a file.
6. Select iso in your home directory and click Open and then Continue.
7. Select macOS as the operating system type and click OK.
8. Go to the folder to house the VM and click Select.
9. Name your VM, click Create and Start the VM.
10. Install macOS.
11. Click the highlighted yellow exclamation point over your VM window and click Continue.
12. Click the Parallels Tools installer on your VM double click.
13. Complete the installation process.
14. Reboot your VM.
SpeedMac.org team tries to keep its focus on everything related to IT and be worthy of calling ourselves professionals. No matter what issue you have about your Mac or iPhone, we are here to help you and provide with solid facts and helpful tips.